---
Easily change a stubborn bike tire by yourself.
Had an unexpected flat bike tire in the middle of the road? There are only so many times that you can come across a bike shop or have a friend fix it for you. 
Introducing our U-Clamp™ Bicycle Tire Removal Tool! This special tool helps you to easily remove and install stubborn tires without damaging anything, helping you to save time and money in the process!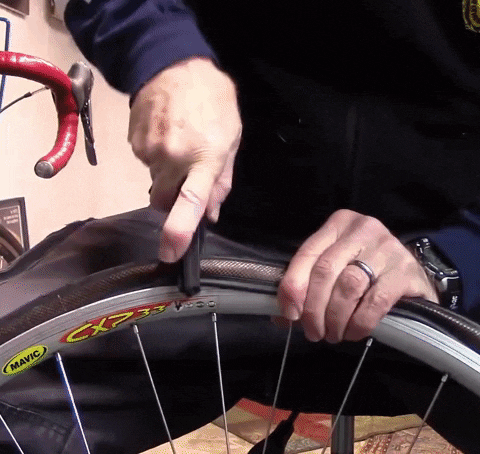 Features/Benefits:
Peace of Mind When Cycling:

Getting a flat tire is an inevitable part of cycling, and this tool makes your rides easier by providing an effortless way to change flat tires on the road, especially when riding solo.
Saves Money:

Protects your inner tubes and rim by acting the same way as a car tire lever does but in reverse—putting gentle pressure on your tire ensures that it will not damage the tube, tire, or rim!
 Bring It With You At All Times:

Its lightweight, small, and compact size is perfect for storing in your tool pack, jersey pocket, or bike saddlebag!
Easy-To-Use:

Simply position the slotted jaw onto the rim and place the hook under the stubborn tire—much like how you would a pair of scissors. Now all you've got to do is maintain downward pressure and pull! It's so easy!
Built From High-Strength Resin: 

Made of reinforced elastic resin for stretchability and strength—preventing rim scratches and puncturing of inner tubes!
Specifications:
Color: Black
Size: 5.5cm x 23 cm
Net weight: 115g
Applicable tire size: up to 45mm
Get yours now and CONFIDENTLY change a flat bike tire all by yourself!
Disclaimer: Delay in product shipping time in unavoidable due to the events brought by the coronavirus, as well as an increase in online sales. Please bear with us; stay home and keep safe. Thank you!